All beats are 16 bar verses and 8 bar chorus with a 2 or 4 bar intro. Each beat running time are 4 minutes and 30 seconds.

Looking for remixes or Custom Beats?
See Terms & Polices and contact us.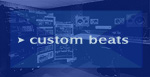 The preview samples below are compressed MP3 files and are 90 seconds long. Quality of the audio is from the original master file. Once the beat is purchase, the voice protection will be removed and the beat will be in MP3 format and sent to your email address instantly.
Buying beats are easy just click the purchase now button and you will instantly be directed to paypal.com. Once you have entered in your payment, (cash is not accepted). An email confirmation will be send and receipt confirming your purchase and a download link to your beat will be sent to your email address instantly !
ALL PURCHASES ARE FINAL AND WILL NOT BE REFUNDED. PLEASE DO NOT REQUEST FEE BEATS, OUR BEATS ARE AT A LOW PRICE TO MEET YOUR NEEDS AND ARE AT OPTIMAL QUALITY. PLEASE READ ALL THE INFORMATION BEFORE DECIDING TO BREAK THE LAW WE WILL PROSECUTE!